Our company provides customers with complete leaf vegetable processing line with customized capabilities. Our production line can cut, clean and drain vegetables in large quantities and quickly and efficiently, and produce them in an automated and orderly manner. The machine is made of high-quality stainless steel, which is easy to clean and has a long service life. Our leafy vegetable production line can widely use a variety of vegetables, suitable for corporate canteens, school canteens, fruit and vegetable processing factories and other places.
The Specification of Leaf Vegetable Processing Production Lines
The full-automatic fruit and vegetable processing production line is composed of 6-workers selection station conveyor, multi-function vegetable cutting machine, elevator,vortex type vegetable washing machine, basket cart and vegetable dehydrator.
Machine
Dimension
Voltage
Power
Capacity

selection station conveyor

3000*960*800 mm

380V/50(60)HZ/Phase

0.25 kw

-
FC-306

cutting machine

1020x760x1370mm

380V/50(60)HZ/Phase

1HP+2HP

500-1000kg/h

Elevator

2520*740*1950mm

380V/50(60)HZ/Phase

0.25 KW

500-1000kg/h

WA-1300 washing machine

4020*1710*1650mm

380V/50(60)HZ/Phase

4.4kw

500-1000/h

Basket cart

1070*1070*860mm

-
-
-
FZHS-15

dehydrator

900x600x900mm

380V
1.5kw

10kg/batch ,200-300kg/h
Vegetable Processing Process Flow:
Vegetable selection and core removal → Cutting into strips, slices, dices → Lifting and feeding (to the vegetable washing machine) → Washing and decontamination → Separately packed in the basket → final dewater
1) Station conveyor: It can be operated by 6 people at the same time. There is a core removal device. The waste is discharged through the bottom conveyor belt, and the belt degree is adjustable.
2) Vegetable cutter: It is used to cut vegetables into slices, dices or strips, and the output is 500 ~ 1000kg / h.
3) Hoist: automatic feeding, processing capacity 500-1000kg / h, adjustable speed.
4) Vegetable washer: Use vortex to tumbling to clean vegetables and remove impurities and sterilization, and thoroughly wash in place twice.
5) Dehydrator: Equipped with stainless steel basket, frequency conversion control can effectively remove surfing water.
6) The production line can be customized, automatic and simple operation, in line with food safety standards, suitable for large central kitchens, etc.
Detail of Leaf Vegetable Processing Production Lines
This is a vegetable processing production line customized by our company according to the needs of Jordan customers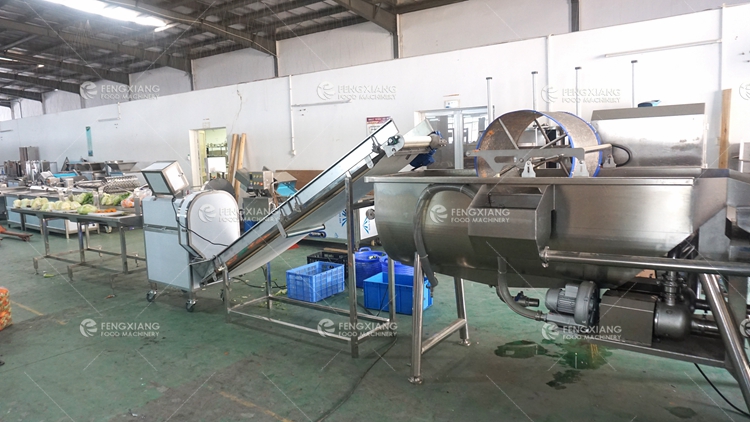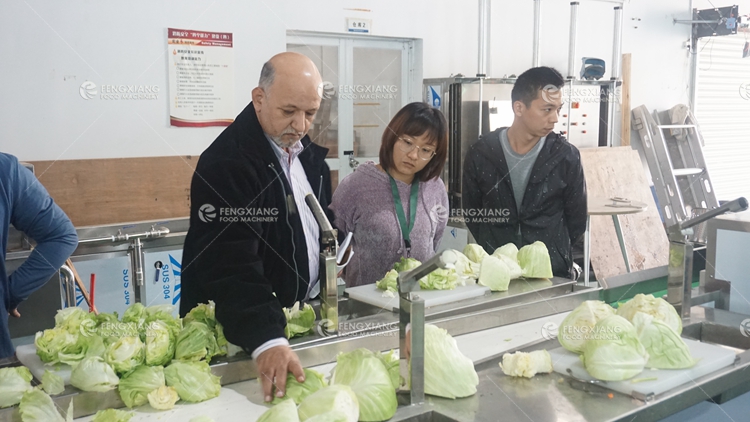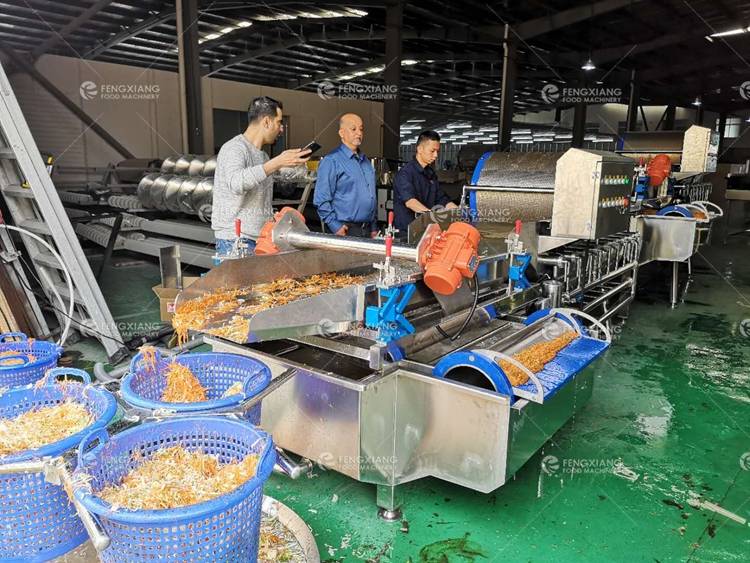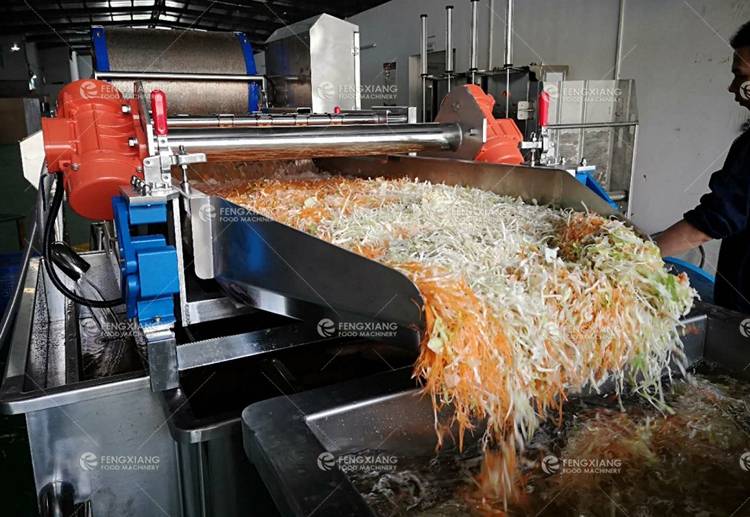 This line can also be widely used in various fruits and vegetables,
such as radish processing, only need to configure a peeling washing machine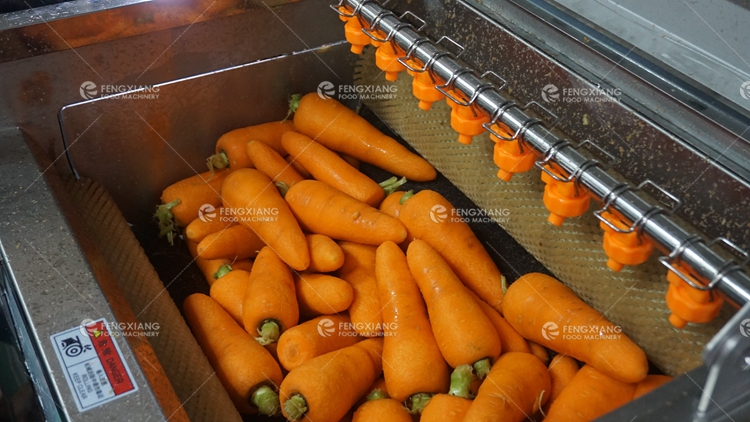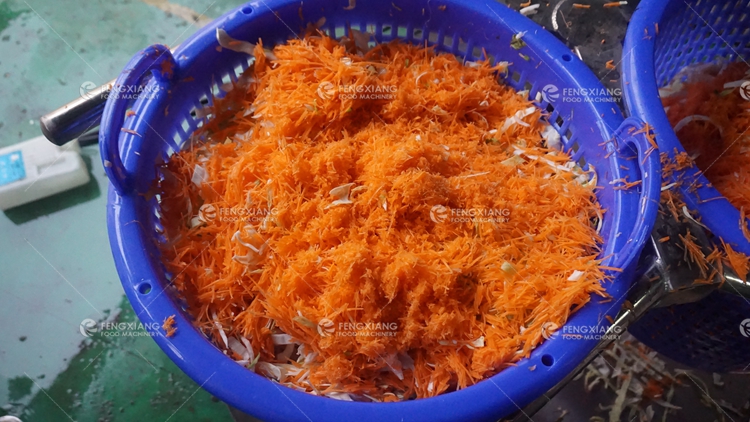 Customer On Site Testing Leaf Vegetable Processing Production Lines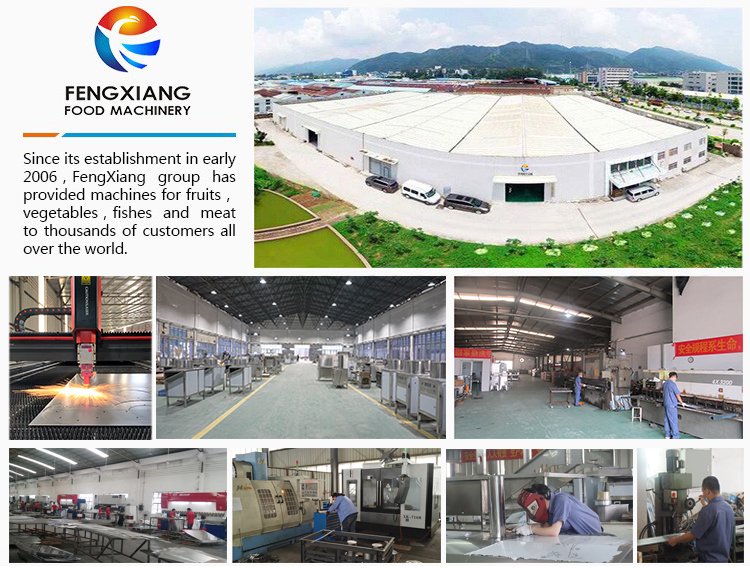 Fengxiang Food Machinery Co., Ltd. is a professional food processing machinery company and a supplier and manufacturer of fruit and vegetable processing machinery. It has 13 years of senior industry experience. Fengxiang has won a wide reputation with skilled engineers and excellent service teams, providing cost-effective processing machinery and a complete production line for thousands of catering units and kitchenware enterprises.
Fengxiang food machinery provides customers with food processing solutions, including vegetable cutting machine, vegetable washing machine, peeling machine, sorting machine, drying machine, frying machine, juicer machine, packaging machine, seafood processing equipment, meat processing equipment,etc. Fengxiang can customize products for customers on demand, please contact us for more details.