FC-300 Poultry Cutting machine can cut poultry with cartilage, for example, bird, pigeon, chicken, duck, ect. If cut once, meat becomes julienne. If cut twice, meat becomes pieces(cubes).
The Parameters of Poultry Dice Cutting Machine
Dimension:720x500x800mm
Voltage: 380V 50Hz
Power: 2 HP
Capacity: 500-800kg/h
Net weight: 85KG
Cutting Size: 5-40(Unadjustable, user should change blade to change cutting size)
Blade Speed: 170rpm
The Features of Poultry Dice Cutting Machine
1. It can cut those poultry like chicken, dark,geese etc. into strip or dice cube shape.
2. The blades are changable , and the cutting size can be change from 5mm to 40mm.
3. First,cut the meat into strip, the second time, cut them into dice.
Show Detail of Poultry Dice Cutting Machine
Blades are made of high quality stainless steel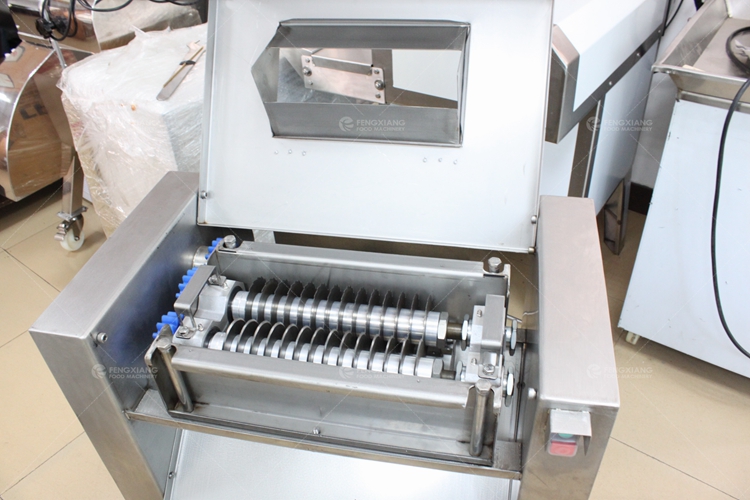 Chicken after cut (diced chicken)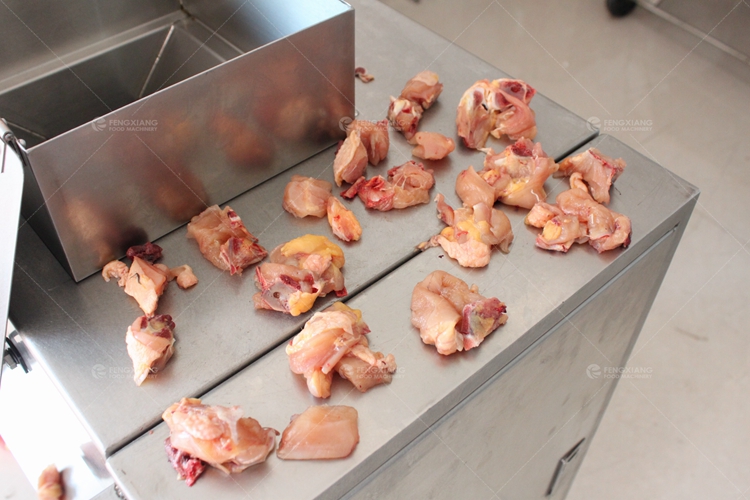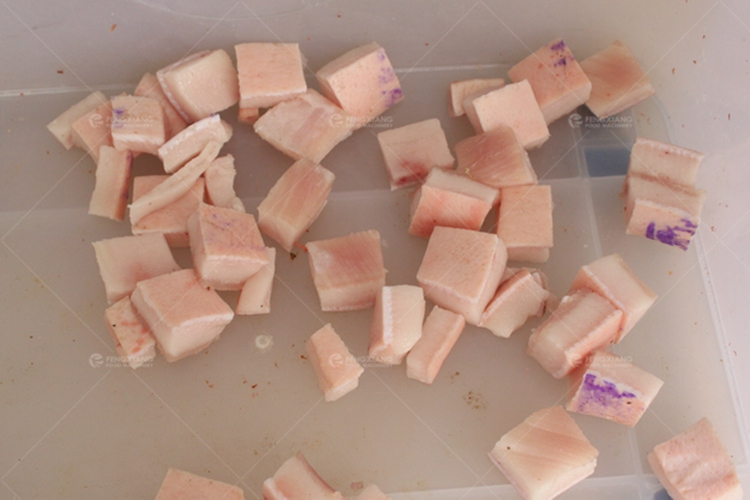 The Video about FC-300 cutting machine
1. FC-300 cutting duck neck
http://www.tudou.com/programs/view/4_fE7keflhY/
2. FC-300 cutting fish rips:
http://www.56.com/u28/v_OTAxMTI0NTc.html
3. FC-300 cutting chicken feet:
http://www.56.com/u89/v_OTQ1MzE2MTQ.html
4. FC-300 cutting chicken meat:
http://www.56.com/u92/v_OTYxMzE4OTc.html
Fengxiang Catering Equipment Co., Ltd. is a professional food processing machinery company and a supplier and manufacturer of fruit and vegetable processing machinery. It has 13 years of senior industry experience. Fengxiang Catering Equipment has won a wide reputation with skilled engineers and excellent service teams, providing cost-effective processing machinery and a complete production line for thousands of catering units and kitchenware enterprises.
Fengxiang catering equipment provides customers with food processing solutions, including vegetable cutting machine, vegetable washing machine, peeling machine, sorting machine, drying machine, frying machine, juicer machine, packaging machine, seafood processing equipment, meat processing equipment,etc. Fengxiang catering equipment can customize products for customers on demand, please contact us for more details.

FX-350/550 Diced Meat Cutting Machine FX-300 Forzen Meat Dicer Machine